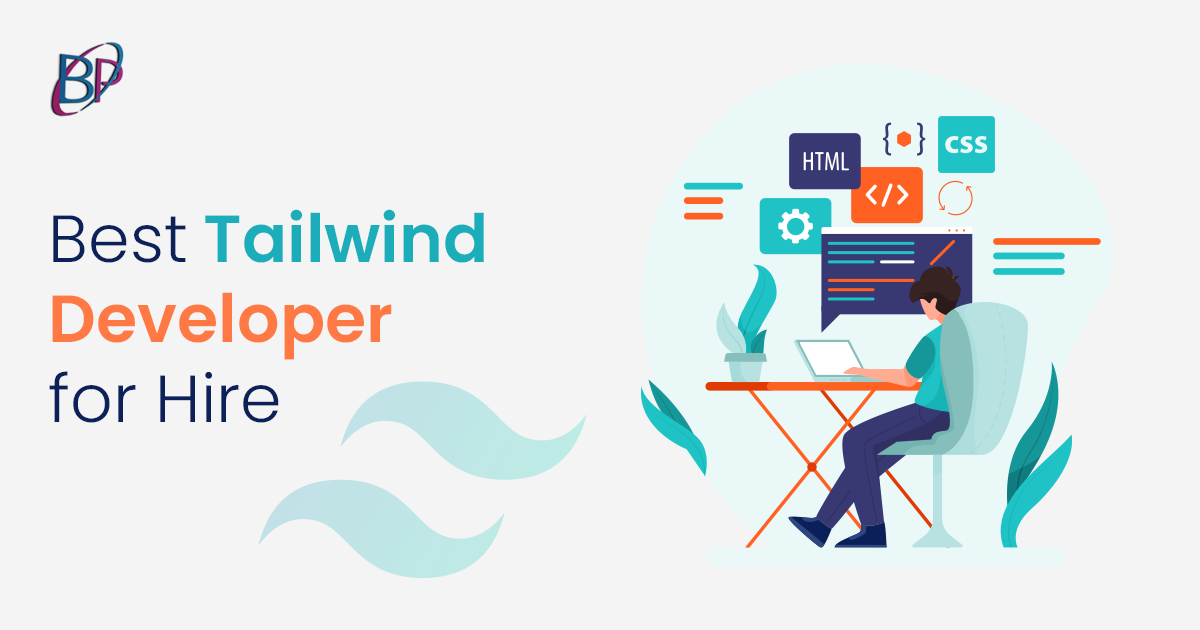 Best Tailwind developer for Hire
Tailwind CSS is a reliable framework for creating beautiful designs. The framework has packed with various CSS classes like flex, pt-4, text-center and rotate-90 to create any design directly in your markup. This framework is one of the popular frameworks nowadays for Front-end design of any website.
Why Tailwind CSS ahead of Bootstrap?
The developers describe Bootstrap, "a popular user interface (UI) component and interaction for using HTML, CSS, and JavaScript that is simple and easy to use."
Bootstrap is a popular framework that makes it easy to create responsive and mobile-first projects on the web using HTML, CSS, and JS.
Tailwind CSS, on the other hand, is said to be "a utility-first CSS framework for rapid user interface (UI) creation". Tailwind CSS is different from frameworks like Bootstrap, Foundation or Bulmer, which are not UI Kits.
Both Bootstrap and Tailwind CSS are classified as "front-end frameworks" tools.
Some of the features a website design made by Bootstrap offers are:
Preprocessor: Bootstrap uses vanilla CSS. However, two popular CSS preprocessors based on its source code are Less and Sass. Get started quickly with precompiled CSS.
One structure for every device: Using Bootstrap, you can easily and efficiently scale your website and applications with a single code base, with CSS Media Query that works beautifully on all devices: desktop, phone, tablet.
Full of features: With Bootstrap, you get simple HTML elements, dozens of custom HTML and CSS elements and great jQuery plugins for comprehensive and beautiful documentation.
On the other hand, Tailwind CSS provides the following key features:
No Default Theme: There is no default theme. So you can work from scratch. This will make the site lighter and load faster.
No build-in UI elements: Easy to customize due to no build-in UI elements.
The main reason Tailwind CSS is ahead of Bootstrap is that Tailwind CSS is much easier to customize than Bootstrap.
Three stunning websites created by Tailwind CSS
Bangla Puzzle Limited develops websites and web applications using Tailwind CSS. Below are the three Tailwind CSS based websites developed by the company:
1. Medisquare.com.bd
Bangladesh's first e-health based web application is medisquare.com.bd. Here Tailwind CSS is used to develop the frontend of patient, doctor, agent and admin panel. Even though Tailwind CSS is a new framework, it hasn't had any impact on designing. Visit Medisquare website to tailwand CSS performance.
2. Mojargames.com
It is an instant gaming portal, with Tailwind CSS used in its frontend. Frontend and backend – Both parts use Tailwind CSS. Visit Mojargames website to see attractive tailwind CSS features.
3. Banglapuzzle.com
www.banglapuzzle.com.com is a portal created keeping software client in mind. It has various features including Service, Products, detail page, contact page, admin panel, user panel. All frontend features use Tailwind CSS design. Visit Bangla Puzzle website to take tailwind CSS experience.
If you are a web developer or frontend developer, feel free to use Tailwind CSS for frontend.
And, if you want to take the help of an organization for frontend development, web development and web application, our company Bangla Puzzle Limited is committed to provide you services in less time.
Author: Nadim Majid, CEO, Bangla Puzzle Limited