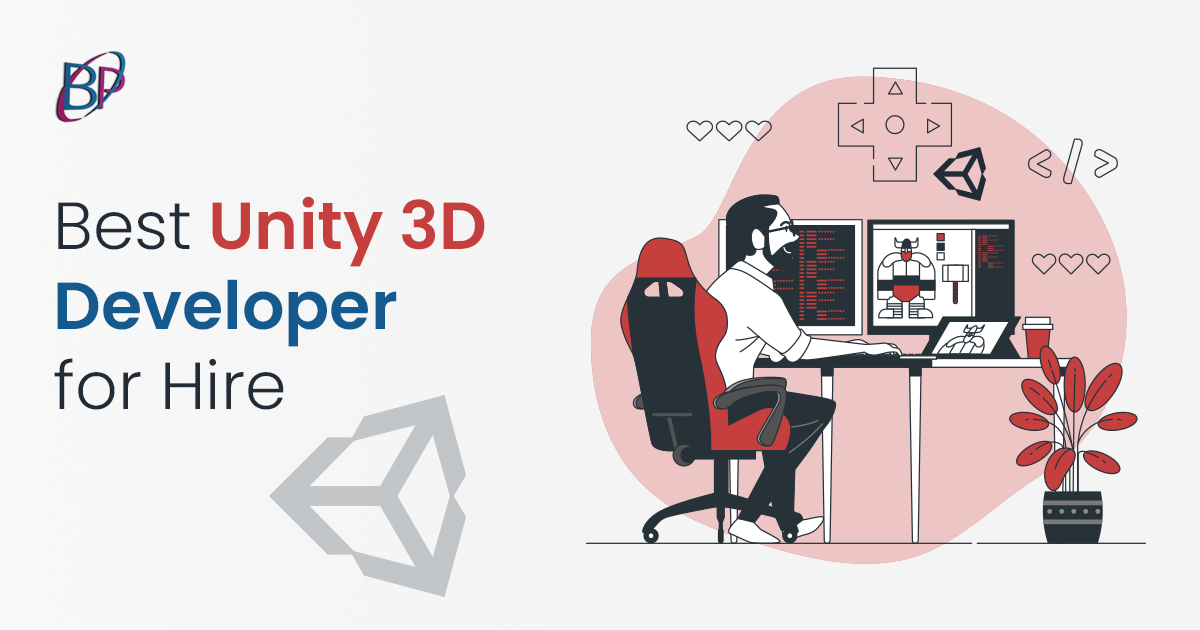 Best Unity 3D Developer for Game Development
Unity is a very popular game development platform in the world. This platform will be used to develop Android and iOS - both versions easily.
History of Unity
Unity is a cross-platform game engine developed by Unity Technologies. This platform was first announced and released in June 2005 at Apple Worldwide Developers Conference as a Mac OS X game engine. The engine has since been gradually extended to support a variety of desktop, mobile, console and virtual reality platforms. It is particularly popular for iOS and Android mobile game development and is considered easy to use for beginner developers and is popular for indie game development.
There are two types of dimensional games.
1) Unity 2D
Unity 2D platform provides a comprehensive solution to make any worldbuilding, characters, graphics, physics based 2D game.
2) Unity 3D
Unity 3D platform provides a great solution to make real-time 3D projects for various industries across games, animation, automotive, architecture and more.
Use of Unity 3D
1) Games
2) AR
3) VR
4) NFT
Benefit of Unity 3D:
Great visual experience
Unity 3D gives you the best visual platforms used for building visual experiential games. Moreover, it's very easy to use and less complicated as compared to other technologies.
Reliable and effective
More than 30% of game developers from all over the globe are using Unity. Currently, it's a must-have tool that allows them to render 2D and 3D scenes. Plus, it can also be used for rendering 3D images as well. Overall, games built on the Unity engine are most preferred by users.
Play mode
When it comes to rapid interactive editing, this platform is the most effective tool. Thanks to the play mode option, programmers can be more efficient as it allows them to instantly check the gameplay, test it properly, and review the game. Its main goal is to make testing more efficient as it demonstrates how things work out without hassle. If bugs are found, the game can be paused and altered if necessary.
Superb tech support
The tech support of this tool includes highly skilled and professional support members and is always ready to help. Therefore, if you face some technical issues or need an insightful piece of advice, they are always ready to help. Don't hesitate to contact them!
Beautiful analytics
One of the greatest benefits of Unity 3D is its built-in analytics; you can find it within the tool. It allows programmers to find out more about the game performance, create reports using insights about the game. In other words, it allows you to find out more about the game and make the right changes at the right moment to make it better for users.
Why will you hire Unity 3D developer from Bangla Puzzle Limited?
Bangla Puzzle Limited provides experienced Unity 3D Developers. Based on your requirement and time, we provide you Unity 3D Developer. You can make a prototype or big project. You can scale-up or cut your team with one month's notice.
We provide three types of Unity Developer.
1) Onsite Developer
2) Remote Developer
3) Project based Developer
1) Onsite Developer
We provide onsite developers. We ensure developer recruitment, payroll, lunch, snacks, and devices for your project development. Developers will work under your supervision; we ensure their productive environment.
2) Remote Developer
We provide remote developers for your project. We ensure developer capabilities and payroll. We will work and monitor your progress directly.
3) Project based developer
If you want to work on a fixed budget, you can handover your requirement. We will do it within budget. In this case, we will operate the Engineering team, ensure your requirements, UI, function, Data and security.
If you want a Unity 3D developer or team for your project, contact us.
Read also: Best Laravel Developer for Hire