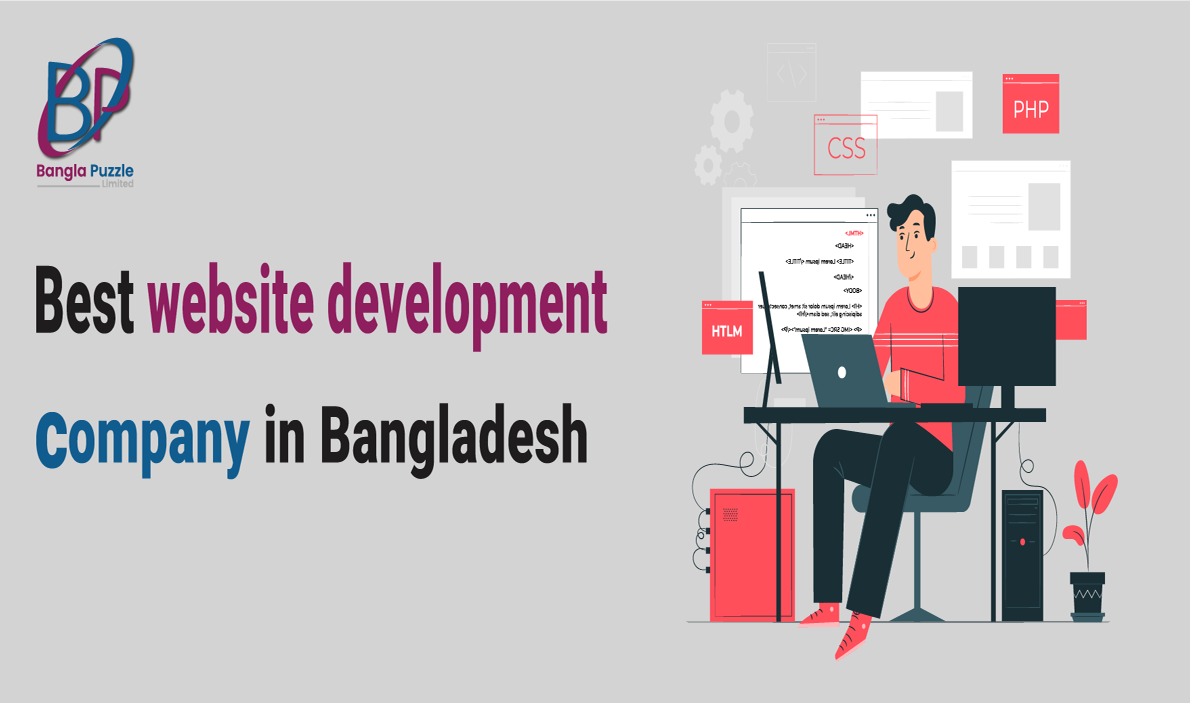 Best website development company in Bangladesh
What is a website?
What is website development?
Who develops websites?
Website development company
Best website development company in Bangladesh
Why choose Bangla Puzzle Limited?
Some websites of Bangla Puzzle Limited
Website development cost

What is a website?
Website is a popular word in digital area.
A website is a collection of interconnected web pages or documents that are accessible through the internet. It is hosted on a web server and can be accessed using a web browser like safari, Chrome, Mozilla etc. Websites are used for various purposes, such as providing information, sharing multimedia content, conducting online transactions, and facilitating communication.
A typical website consists of a combination of text, images, PDF, videos, and interactive elements. It may also include features like forms, search functionality, and user registration. Websites can range from simple static pages that display information to complex dynamic websites that are driven by databases and allow users to interact with the content.
Websites are identified by unique addresses called Uniform Resource Locators (URLs) or web addresses. These addresses enable users to access specific web pages within a website by typing the URL into the address bar of a web browser or by following hyperlinks.
Overall, websites play an important role in providing information and services on the internet, serving as a platform for businesses, organizations, individuals, and communities to engage with their target audience or users.
What is website development?
Website development refers to the process of creating and building a website from start to finish. This process involves a combination of technical skills, creative design, and strategic planning to develop a functional, lucrative, and visually appealing website.
The website development process typically includes the following steps:
1. Planning: Planning is the first step of website development. This involves defining the goals and objectives of the website, identifying the target audience, and determining the website's structure and functionality. Planning also includes creating a sitemap and wireframes to outline the website's layout and navigation.
2. Design: In this phase, the visual design of the website is created. It includes choosing color schemes, graphics, typography, and other visual elements that align with the brand and purpose of the website. Web designers use design software and coding languages like HTML, CSS, and JavaScript to create the user interface (UI) and user experience (UX) of the website.
3. Content Creation: High-quality content is essential for a successful website. During this stage, relevant and engaging content such as text, images, videos, and other media are created or collected to populate the website. Content should be optimized for search engines (SEO) and tailored to meet the needs and expectations of the target audience.
4. Development: This step involves the actual coding and development of the website. Web developers use programming languages such as HTML, CSS, JavaScript, and backend languages (e.g., PHP, Python, Ruby) to bring the design and functionality to life. They also integrate any necessary databases, content management systems (CMS), e-commerce platforms, or other required features.
5. Testing and Quality Assurance: Quality Assurance is an important step for software development. Before launching the website, thorough testing is performed to ensure that all features work correctly, the website is responsive across different devices and browsers, and there are no usability or performance issues. Quality assurance involves checking for any bugs, errors, or inconsistencies and fixing them.
6. Deployment and Launch: Once the website has been developed and tested, it is ready to be deployed to a web server and made publicly accessible. This involves uploading the website files to a hosting provider and configuring the domain name and server settings. The website is then officially launched and available for users to visit.
7. Maintenance and Updates: Websites require ongoing maintenance and updates to ensure they remain secure, up-to-date, and functional. This includes regular backups, security monitoring, content updates, software updates, and bug fixes. Continuous monitoring and optimization may be necessary to improve performance, user experience, and search engine visibility.
Who develops websites?
Website development can be performed by a team of professionals, including web designers, web developers, content creators, and project managers. Alternatively, individuals with the necessary skills can handle different aspects of website development themselves.
Website development company

Every business need website to show their product, service or information.
A website development company is a professional organization that specializes in providing website development services to clients. These companies typically have a team of skilled web designers, web developers, and other professionals who work together to create and deliver high-quality websites.
The services offered by website development companies can vary but often include:
Custom Website Development: These companies build websites from scratch, tailored to the specific needs and requirements of the client. They create unique designs, develop the website's functionality, and implement any necessary features and integrations.
Content Management System (CMS) Development: Some website development companies specialize in developing websites using popular CMS platforms such as WordPress, Joomla, Drupal, or Magento. They leverage these systems to create websites that can be easily managed and updated by the client.
E-commerce Website Development: Companies that focus on e-commerce website development specialize in building online stores and shopping platforms. They integrate secure payment gateways, product catalogs, shopping carts, and other features necessary for conducting online transactions.
Responsive Web Design: With the increasing use of mobile devices, responsive web design has become essential. Website development companies offer responsive design services, ensuring that websites adapt and display properly on various screen sizes and devices.
Web Application Development: Some companies specialize in developing complex web applications that go beyond traditional websites. These applications may involve advanced functionality, database integration, user management systems, and interactive features.
Website Maintenance and Support: Many website development companies offer ongoing maintenance and support services to ensure that websites remain secure, up-to-date, and functional. This includes regular backups, software updates, bug fixes, and troubleshooting.
When choosing a website development company, it's important to consider their previous work, expertise, portfolio of past projects, client reviews and testimonials, pricing, and communication and project management processes. It's advisable to collaborate with a company that aligns with your specific requirements and can deliver a website that meets your expectations.
Best website development company in Bangladesh
Bangladesh has some companies who develop websites. Based on previous work experience, portfolio, expertise, Bangla Puzzle Limited is the best website development company in Bangladesh.
Some websites of Bangla Puzzle Limited
Now I am sharing some websites, which is developed by Bangla Puzzle Limited.
www.banglapuzzle.com: Bangla Puzzle Limited is signature website for Bangla Puzzle Limited. Their design, content and mobile responsiveness issue follow many software companies.
www.nidch.gov.bd: NIDCH is a government hospital. It is one of the important hospital in Bnagladesh. Banga Puzzle Limited has developed this dynamic website.
Desh Career: Desh Career is a weekly newsletter for career seeker. This site is developed by Bangla Puzzle Limited.
Contact Address:
You can contact Bangla Puzzle Limited for website development.
Their address is House: 13/3, Road: 2, Shyamoly, Dhaka-1207
+8801880811048 (Whatsapp) and [email protected] (Email)